About Us
Who We Are
Access Without Borders is a US 501 (c) 3 organization created to partner with organizations in developing countries to invest in sustainable projects that foster personal and economic empowerment for people, organizations, and communities.
To date, we have focused on building and leveraging relationships in Ghana to identify projects where modest investments catalyze meaningful community development. For example, by funding the rehabilitation of a water storage tank in Otoase, we helped triple the village's water supply.
Our Ghanaian partners demonstrate their dedication to ensuring that Access Without Borders contributions provide long-lasting benefit as they work to provide some local funds and buy-in from local authorities.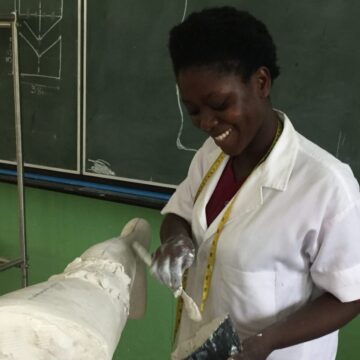 Name
Name, a student at the Orthopeadic Training Center in Nsawam, Ghana, practices blank.
Nsawam Computer Training Center
Once an individual's basic health and mobility needs are addressed, Access Without Borders found that Disabled Ghanaians seek economic empowerment. The Nsawam Computer Training Center teaches basic computer skills to unlock economic potential.
Food Program for Nsawam Orthopedic Training Center
The Orthopedic Training Center, Nsawam Ghana, trains students, many of whom are the first in their families to be formally educated, to provide prosthetics and orthotics for children and adults. Many students lack the means to pay the $166/semester for their meals. You can help.
Otawase Water Project
Access Without Borders helped a village triple its water storage capacity and automate its transport, saving village children up to four hours a day walking back and forth to the water storage tanks outside the village.
Days for Girls International
Access to feminine hygiene dramatically increases girls' school attendance, reduces dropout rates, and help break the cycle of illiteracy and poverty for girls and women in Ghana. Access Without Borders worked with Days for Girls in Ghana works to provide reusable feminine hygiene kits that last for three years to school-aged Ghanaian girls with a focus on poor and rural areas, empowering young women to continue their education.