Louisa Enyonam was raised at Catholic Orthopedic Training Center and lives in the village of Otoase a few miles from Nsawam. As an elementary school teacher, she is realizes the importance of education and literacy in raising people out of poverty. To read Louisa's story, click on the following link:
Otoase's only water source is a collection basin that is a 15-30 minute walk from people's homes. The village's children spend up to 4 hours a day gathering water that can significantly affect their school attendance. And, during the dry season, the village's water supply can become inadequate. Louisa, in conjunction with other village elders have implemented a plan to provide water access and water security for Otoase.
OTOASE'S WATER SOURCE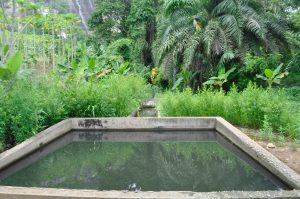 This concrete container is about 8'x12'x 8′ deep, collects rainwater from nearby hills. During the dry season, the water supply is seriously diminished and water must be rationed. At the picture top is the conduit that brings water to the container from the underground spring.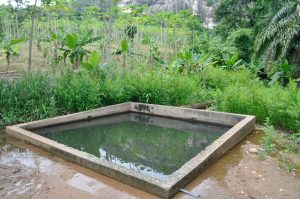 The lower right hand corner shows the drain pipe that empties excess water when it is plentiful.
Under the soil on the left side of this photo is an additional storage tank that has been filled in. Access Without Borders has provided the funds to excavate and refurbish the additional tank. Having two tanks will allow the village to routinely clean the storage tanks, thus reducing the risk of water borne diseases.
THE PROJECT: HOW TO CONTRIBUTE
The Otoase water project will will provide water access to the village by tripling storage capacity and piping it to the village. The total cost of the project is about $12,000 US. The village has purchased a pump to pump the water to the village and Access Without Borders has provided funding to excavate the buried tank.
With an additional $8000, we will help Otoasi:
Construct a platform and install a large plastic storage tank in the village.
Purchase the construction materials and build the system to pipe the water from the well to the village.
Refurbish and construct 4 foot walls on the current tanks; thus tripling water capacity.
Leverage funds with local authorities and power company to install power to the project.