About Us
Access Without Borders is a US 501 (c) 3 organization created to partner with organizations in developing countries to invest in sustainable projects that foster personal and economic empowerment for people, organizations, and communities.
To date, we have focused on building and leveraging relationships in Ghana to identify projects where modest investments catalyze meaningful community development. For example, by funding the rehabilitation of a water storage tank in Otoase, we helped triple the village's water supply.
Our Ghanaian partners demonstrate their dedication to ensuring that Access Without Borders contributions provide long-lasting benefit as they work to provide some local funds and buy-in from local authorities.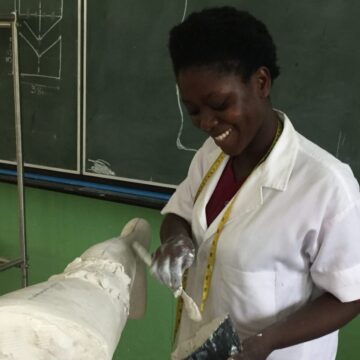 Name
Name, a student at the Orthopedic Training Center in Nsawam, Ghana, practices blank.